Sometimes, even something as basic as a blood test can tell you a lot about your general health. Many tests only need a tiny amount of blood yet may provide doctors with a thorough understanding of how one's organs are doing and help them screen for various ailments and diseases. A doctor could recommend the Haemogram test, one of the most common and basic blood tests.commend.
A series of tests on a blood sample is known as a Haemogram, commonly known as a complete Haemogram test. The complete haemogram includes two main components: Complete Blood Count(CBC) and Erythrocyte Sedimentation Rate(ESR). The CBC constituents, red blood cells, white blood cells, and platelets, are mostly tested by Haemograms. ESR is done to find out if any condition is causing inflammation in the body.
This test provides information on hemoglobin, white blood cell count, platelet count, and specific red blood cell indices. Automated complete blood counts also provide data for "differential," which provides statistics on the proportions and total counts of several subgroups of white blood cells. This test identifies anemia, hematological malignancies, infections, acute hemorrhagic states, allergies, and immunodeficiencies. It is also used to monitor the side effects of certain medicines,chemotherapy and radiotherapy.
The primary benefit of a Haemogram test is that it can identify even the slightest abnormality in the bloodstream and provide vital details about the underlying medical condition.
Purpose of Haemogram Test
• This is one of the most common blood tests that is ordered today.
• To monitor overall health as part of a routine check-up.
No preparation is required for the test in most circumstances
Patients with bleeding disorders, those using medications that affect blood cells, those with cancer, bone marrow disease, bleeding disorders, or autoimmune disorders can all benefit greatly from a complete Haemogram.
The doctor can suggest that you get a CBC Haemogram test as part of a standard checkup if you have the following symptoms:
• Anemia
• Leukemia
• Nose bleeding
• Viral infections
• Excessive bleeding
• Unexplained bruising
• Red or purple spots on the skin
• Taking Chemotherapy for cancer
• Prolonged bleeding for minor injuries
• Complicated pregnancy: High blood pressure in pregnancy (Preeclampsia)
Components Measured in a Haemogram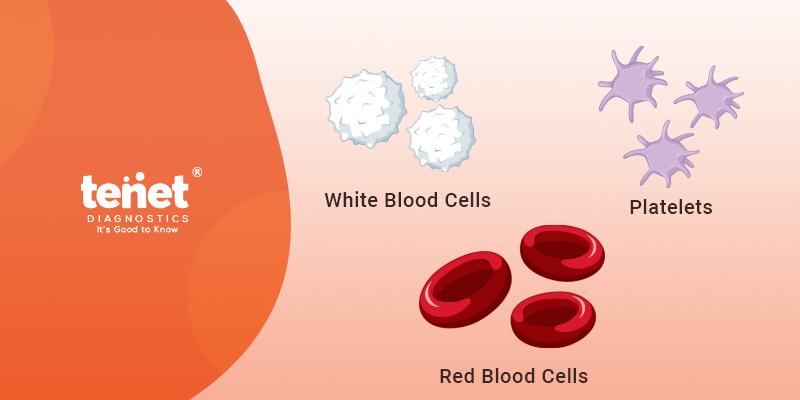 A Haemogram counts red and white blood cells and platelets in the blood. In addition, it computes a blood sample's hemoglobin and erythrocyte sedimentation rate (ESR). Here is more information about these components as well as what they do:
Red blood cells (RBCs) are in charge of transporting oxygen from the lungs to the rest of the body. The normal RBC range differs between men and women and may also change depending on many other variables.
White blood cells (WBCs) are a part of the immune system that helps fight infection and defend the body against other foreign materials. Various laboratories may use different normal ranges for WBCs.
Platelets assist in the production of blood clots in the body and stop bleeding. During an injury, your platelets will cluster together at the site of the wound to act as a plug, sealing blood vessels. In normal blood, the platelet count should be between 150,000 and 450,000/mL.
Hemoglobin is an iron-containing protein found in red blood cells (RBCs). It helps the RBCs transport oxygen to various body areas by forming a reversible link with oxygen. It also promotes the creation of bilirubin and new RBCs in the bone marrow (Hb).
ESR is the RBC rate accumulated at the bottom, through plasma, of an anticoagulated blood sample after an hour.
The Haemogram test also includes the computation of various related values, such as the hematocrit or the ratio of RBC volume to total blood volume.
Preparation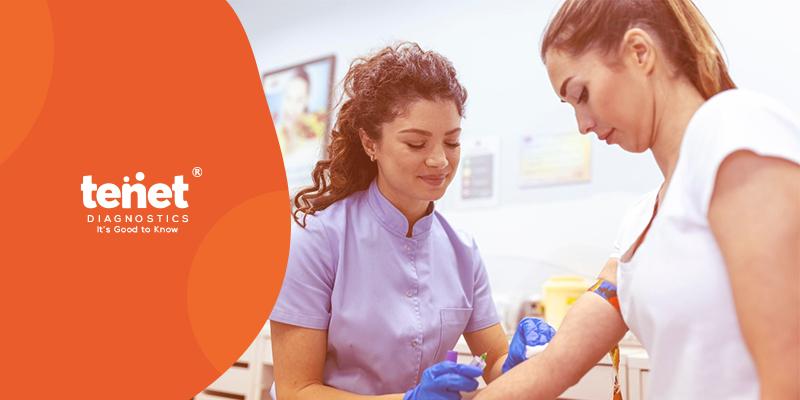 A person does not need to take any special precautions or preparations before this test. However, it is preferable to be open and honest with the doctor about one's health, medications, etc., to advise on any necessary precautions. The complete Haemogram test is a blood test frequently given to assist detect the presence of infections or illnesses and is also included in routine health checks.
No fasting is necessary if the blood sample is just needed for a Haemogram. However, depending on whatever additional tests have been recommended, fasting might be required.
Procedure
A tourniquet (elastic band) is securely fastened to the upper arm before drawing blood. The patient is directed to make a fist. As a result, it is easier to collect blood since more blood fills the veins. Before placing the needle in the vein, the skin is cleansed to avoid the entry of microorganisms. The blood sample is then collected in the vacutainer once the needle has been placed into the arm vein.
The procedure is painless. However, a little prick or pinching sensation may be felt when the needle is put into the skin. If elderly patients require immediate assistance, they can get in touch with the doctor on duty at the pathology lab.
Haemogram Test Normal Values
The full Haemogram blood test results are interpreted using the indicated parameters' normal ranges. The individual is in good health if the test results fall within the usual scope.
| | | | |
| --- | --- | --- | --- |
| Parameter | Females | Males | Units |
| Hemoglobin | 12 – 15 | 13 – 17 | g/dL |
| RBC Count | 3.8 - 4.8 | 4.5 - 5.5 | Millions/cumm |
| WBC Count | 4,000 - 10,000 | 4,000 - 10,000 | Cells/cumm |
| Hematocrit | 36 – 46 | 40 – 50 | % |
| MCV | 83 – 101 | 83 – 101 | fL |
| MCH | 27 – 32 | 27 – 32 | Pg |
| MCHC | 31.5 - 34.5 | 31.5 – 34.5 | g/dL |
| Platelet Count | 1.50 – 4.10 | 1.50 – 4.10 | Lakhs/cumm |
| Neutrophils | 40 – 80 | 40 – 80 | % |
| Lymphocytes | 20 – 40 | 20 – 40 | % |
| Eosinophils | 1 – 6 | 1 – 6 | % |
| Monocytes | 2 – 10 | 2 – 10 | % |
| Basophils | < 1 -2 | < 1-2 | % |
| Absolute neutrophil count | 2000 – 7000 | 2000 – 7000 | Cells/cumm |
| Absolute lymphocyte count | 1000 – 3000 | 1000 – 3000 | Cells/cumm |
| Absolute eosinophil count | 20 – 500 | 20 – 500 | Cells/cumm |
| Absolute monocyte count | 200-1000 | 200-1000 | Cells/cumm |
| Absolute basophil count | 20-100 | 20-100 | Cells/cumm |
What is the Complete Haemogram Test Cost in Hyderabad?
The Haemogram test (Haemogram EDTA Whole Blood) price in Hyderabad is around 410 INR. You can opt for the best diagnostic services with a simple online search for "the best diagnostic center near me."
The Final Word
The complete interpretation of a Haemogram is complicated since a Haemogram assesses numerous factors. Therefore, a physician will always request that you perform further tests in addition to the components examined during the test, considering the patient's signs, symptoms, and medical history to reach a diagnosis.
All elements are examined collectively to identify a condition or stop the start of any critical illness. The complete Haemogram is an excellent preventive checkup test since it detects even the slightest abnormalities, making it very beneficial in the health monitoring of elderly patients or patients with chronic illnesses.